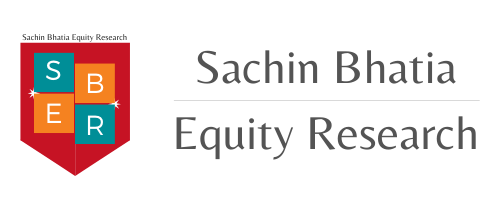 We strive to bring transparency and clarity to dynamic and increasingly complex financial markets, enabling the investment community to make better decisions.
Investing in the new era requires informed decisions and we aim to be the enabled of it.
We are committed to enabling the investment community to make informed and logical decisions using data and research-driven methods and tools. We create innovative products and services that allow our clients to make more informed investment decisions.
Sachin Bhatia Equity Research is an equity research firm in the research analytics of the stock market, education services, and evaluation of the performance of public companies.
The principal research analyst, Sachin Bhatia, is a SEBI Registered (INH200006141) Research Analyst providing research services to institutions and retail clients across Equity, Futures, Indices and Options. We are a specialist in trade in high-quality companies of all segments – large caps, mid-caps, small caps, micro caps – that are often ignored by the analyst community.
Having over 13 years of experience in the trading field, Sachin Bhatia, the founder of Quity Research and Gripsell Technologies, comes with a background in technology, research, and management combined.
Awards
Recipient of Indian Leadership Award for Industrial Development, 2013
Received Fastest Growing Indian Company Excellence Award, 2013
Received Quality Customer Service Enabler of the Year Award, 2013
Winner of Start-up of the Year Award, 2012
Deloitte's Exemplary Performance Award, 2006
Deloitte's Best Research Request Management Award consecutively for two periods, 2006-07
Deloitte's Applause Award for Process Improvement, 2007