MVR for Week of Oct 10-17
Hope you
Loved
this week MVR
Join SBER One to get more updates like this.
Critical update @ 10:50 AM (14 Oct 2021) – CMP 18280
Range to watch for breakout 18250 – 18300
Below 18250, it might just fill the gap and test 18190. If blue cloud starts appearing, it might sign further weakness
On upside, the scope currently seems limited until it breaks out of bullish cloud of the WaveNode
Analysis: Upside scope is limited until cloud breakout on 5 min TF. For down side, 18250 is the breakout point, followed by support at 18190.
Market continues with its bullish move

While above 18140, the market is expected to remain bullish

Below 18080, the market might exhibit sharp correction to upto 17930 level

Banknifty failing to gain strength might limit the upmove of NIFTY too. It is suggested to keep positions weighted hedged if Banknifty is in red or is range bound

In case the market opens gap-up, OR/VBA strategy is recommended

Since its weekly expiry day, sudden sharp correction is possible post noon (if the market is bullish before noon). Upmove is expected during later half if the market is bearish during half. 
F&O data: Bullish
Critical update @ 10:50 AM (13 Oct 2021)
NIFTY RSI nears 80 levels on 15 min TF
NIFTY FUTURE now at discount below NIFTY SPOT
Analysis: Either start booking or start hedging (this is not a sell position recommendation).
Above 17900, any down move is expected to be a trap for the sellers
Above 18060, the market is expected to remain bullish
The range within which the market is expected to be sandwiched and remain range-bound

17900 – 18060
17750 – 17900

No sign of bearishness as of now
OR/VBA strategy is recommended if the market opens gap-up
F&O data: Bullish
Send me an email when this page has been updated
Down move during first half is expected to become a trap for the sellers (while market is above 17780)
Long Straddle opportunity for month expiry once market reaches range of 17780-840
Bullish above 17912
Bearish below 17780
Option writer's range: 17780 – 17910
F&O Data: Mildly Bullish
Market opening gap-up is expected to become a trap for the buyers (not valid above 18120)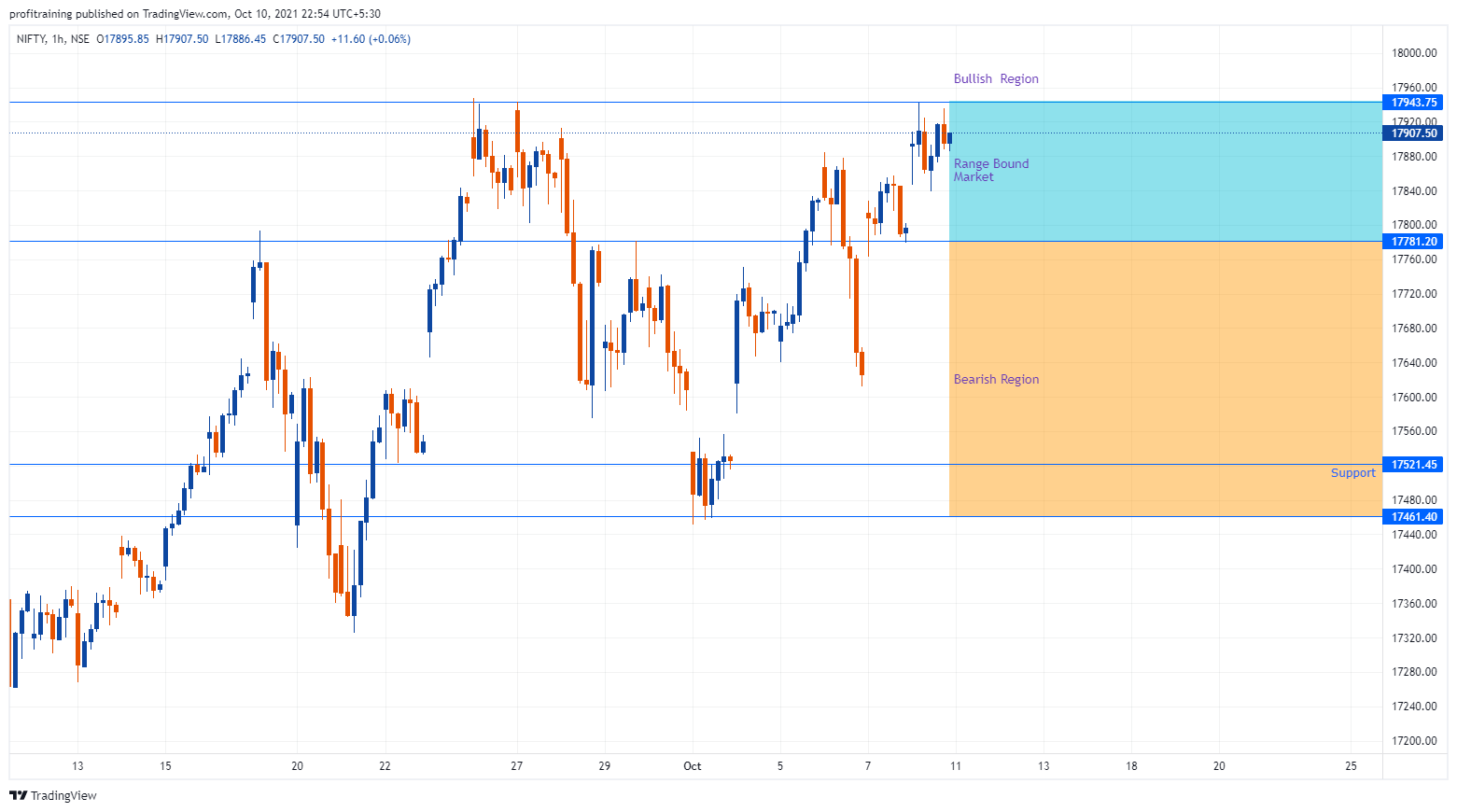 Market View Report – NIFTY
Above 17950, the market is likely to gain momentum (strong resistance at 17980-18010) and test 18070 followed by 18220.
Indecisive/Range-Bound between 17780 TO 17950
Below 17780, Bearish and likely to test 17520
Trend/No-Trend Options* (Trade as per TA)
F&O Data: Mildy Bullish (Gap down opening or down move while above 17780 may become a trap for sellers).
Trend expectation:
Uptrend above 17780. No sell position is recommended above this level.
Downtrend below 17780. No buy position is recommended below this level.
Recommended strikes for Option buyers
For uptrend: 17600CE ITM
For downtrend: 18000PE ITM
Option Writers Range: 17750 – 17980
Recommended Strikes: Outside 17600 – 18000
* This is not a buy or sell recommendation. To be validated with critical levels and Technical Analysis.
INDEX MANAGEMENT
Index management on Daily TF – ON
Phase – 1
Status – In line with analysis
DISCLAIMER AND DISCLOSURE
Trade after careful diligence. Strictly follow technical analysis (ref to videos on our channel if you are new to trading). Please read the risk disclosure and disclaimer at https://www.sachinbhatia.com.
Kindly note that the "Market View" published by the SBER is strictly for the personal use of the subscribers. Distribution in any form, in part or full, and through any medium is a violation of fair use and that of SBER's right to exercise copyright over its work and is prohibited.